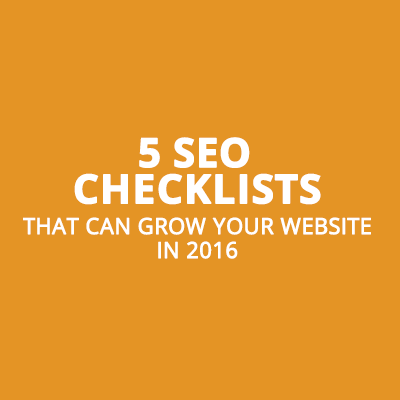 10 Jan

5 SEO Checklists That Can Grow Your Website

5

SEO

Checklists That Can Grow Your Website In 2017
Now that most of these non-organic methods have been explained in previous article "Are You Investing in SEO Gamblers?" here are 5 SEO Checklists that can get you started the right way.
---
Let's begin:
Mobile-friendly website
Since 2015 with google's mobilegeddon  release; websites that are mobile-friendly are favoured over traditional websites. You may know the saying 'Charity begins at home' well in the digital world, if your business depends on the use of a website then you need to make sure yours has all the key elements that makes search engines such as Google love your website.
It is brave to learn how to use templates like WordPress to create your website, although it's actually much smarter if you let a web design agency like Think ADesign do it for you. This is simply because there is more to a website than building it. Take for example: for every image used in a website, loading time is optimised to ensure viewers do not wait too long for it.
According to statistics by Tony Haile of Chartbeat, I've got your attention for 15 seconds … so If 55% of visitors spend less than 15 seconds on your website, will issues like image loading time matter? Of course it matters.
---
Social Media
This is yet another very important channel for reaching target audiences. Social media has been seen by many as a waste of time, we believe if used correctly could be a brilliant reference channel to your website.
True social media activity should include attracting, engaging and leading target audiences to your website where you then delight them.
A few pitfalls to watch out for and why it's important:
Many of us create social media accounts to illustrate to those you compete with that you are up to date with online trends, but you do not update your activities for months. Not only is this bad for your competitive edge, but Google also picks this up as you are too busy running your business and cannot be bothered giving your online audience great content. Like we also say, most search engines especially Google are always hungry for relevant content by its users, if you are not doing this you are irrelevant and this also reflects on your website ranking.
---
Blog
A website without a blog feature is a static brochure website with no intention of providing new and ongoing content.
If you want your audience to like, trust and want to build a relationship with your business, one of the ways to showcase your expertise or tell your story is through blogging.
Even as many SEO cultures have faded away over time, blogging still remains one of the important must haves in every SEO strategy. Blogs posted years back still bring us enquiries and new clients.
One common question we get asked is: how often should you be blogging?
A small business owner may be comfortable with doing their own research and creating original content that readers find relevant… (and that's good) although it may be time consuming. We recognise this, which is why we recommend a minimum of one post per month that contains relevant keywords you want to rank for. If the keyword for month one is 'web design' you use it within your content where appropriate e.g. "as a web design agency in Wythenshawe".
What if you are a SME business with all hands on deck kind of team? The type of business that is very busy solving problems and doesn't have spare hands to cover blogging and other SEO activities? The good news is our team here at Think ADesign can help you cover that aspect seamlessly, almost like having another division in your company. Here is an example of how we have helped a customer compose an awareness article.
---
Local Directories
Citation to Local SEO as SEO experts like to call it. This is the registering of your company information using your business' name, address and contact numbers to the Google+ Local Page and other online directories.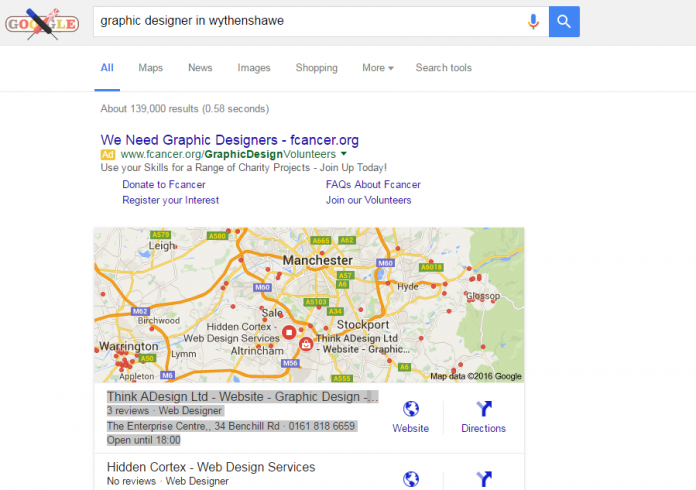 Why is this important? Google uses this information to justify the accuracy of the information it holds and uses it to decide how it ranks businesses in its local search results.
Local SEO is ideal for businesses that have premises or provide products or services from a shop front. Many believe the more directories you get your business on, the higher your business will rank on Google.
This is not necessarily true, because some directories are discontinued or experience changes in management; for example the former Yahoo business directory is now working as Yext power listing in the U.S. Other directories can even be malicious and direct the wrong attention to your website.
Do not fall a victim to these criminals that take advantage of your urge to be on as many directories as possible.
Here are few directories, we would recommend for local businesses in the United Kingdom:
yelp.co.uk
yell.com
192.com
thomsonlocal.com
cylex-uk.co.uk
freeindex.co.uk
scoot.co.uk
hotfrog.co.uk
brownbook.net
opendi.co.uk
directory.independent.co.uk
directory.thesun.co.uk
locallife.co.uk
touchlocal.co.uk
uksmallbusinessdirectory.co.uk
citylocal.co.uk
cityvisitor.co.uk
approvedbusiness.co.uk
city-listings.co.uk
directory.manchestereveningnews.co.uk
localsearch24.co.uk
manchester.infoisinfo.co.uk
shiftbusiness.co.uk
118.com
It's free to sign up on these sites; setting up on one of these directories can take an average of 30 – 45 mins to complete. Another thing to bear in mind is every change you make can take up to 30 days to reflect on Google's search engine results so patience is essential here.
As the sign up process can be very long to achieve, here are few tips that will help you breeze through it (Bookmark This Page):
Common Information: after completing three of these directories you quickly notice the questions they are asking are very similar e.g. business name, address, telephone number and website URL. Save this information in a Microsoft Word document and just copy and paste where possible.
When it comes to the description of your company, product(s) and/or service(s) try to minimise copying and pasting the same content over and over again in every directory description, as Google picks this up as content duplication – this is classed as plagiarism. To avoid complications, simply change the content description where possible. E.g "Think ADesign is a web design agency in Wythenshawe" you can replace this with "If there is anything 18 years' experience taught us, it will be every business deserves beautiful web design".
Scheduling: you can complete 75% of these directories in 10 weeks if you schedule to complete 2 local directories a day. Spreading out the registration process indicates to most search engines that you are following an organic strategy.
Dedicate some else to do it: having a secretary or a spare member of your team do it for you is even better. Same rules apply.
Get An Agency To Do It: this service is valued by many SEO agents starting from £300. Some of the benefits of using a SEO specialist is that they can complete the task quicker and monitor the changes for you giving more time to concentrate on the running of your business.
---
Video:
The use of video on a business website has increased as more website owners acknowledge that visitors are likely to watch a video describing a product or service. Yet many business owners are still dragging their feet to decide whether it is right for their business or not.
Here is what matters:
Visitors are spending less time on a website. In the digital and marketing world there is a saying "Content is King". If one of the search engine ranking factors is based on how long a visitor spends on a website, then it is clear that 60 seconds of watching a business ad video on your website can lead to more sales and rank your website higher on search engines.
In conclusion:
An organic online presence should be your website being driven by actions you take; both on and off the website. Search engines can now see your website as worthy of being ranked higher than your competitors.
[ninja_form id=1]