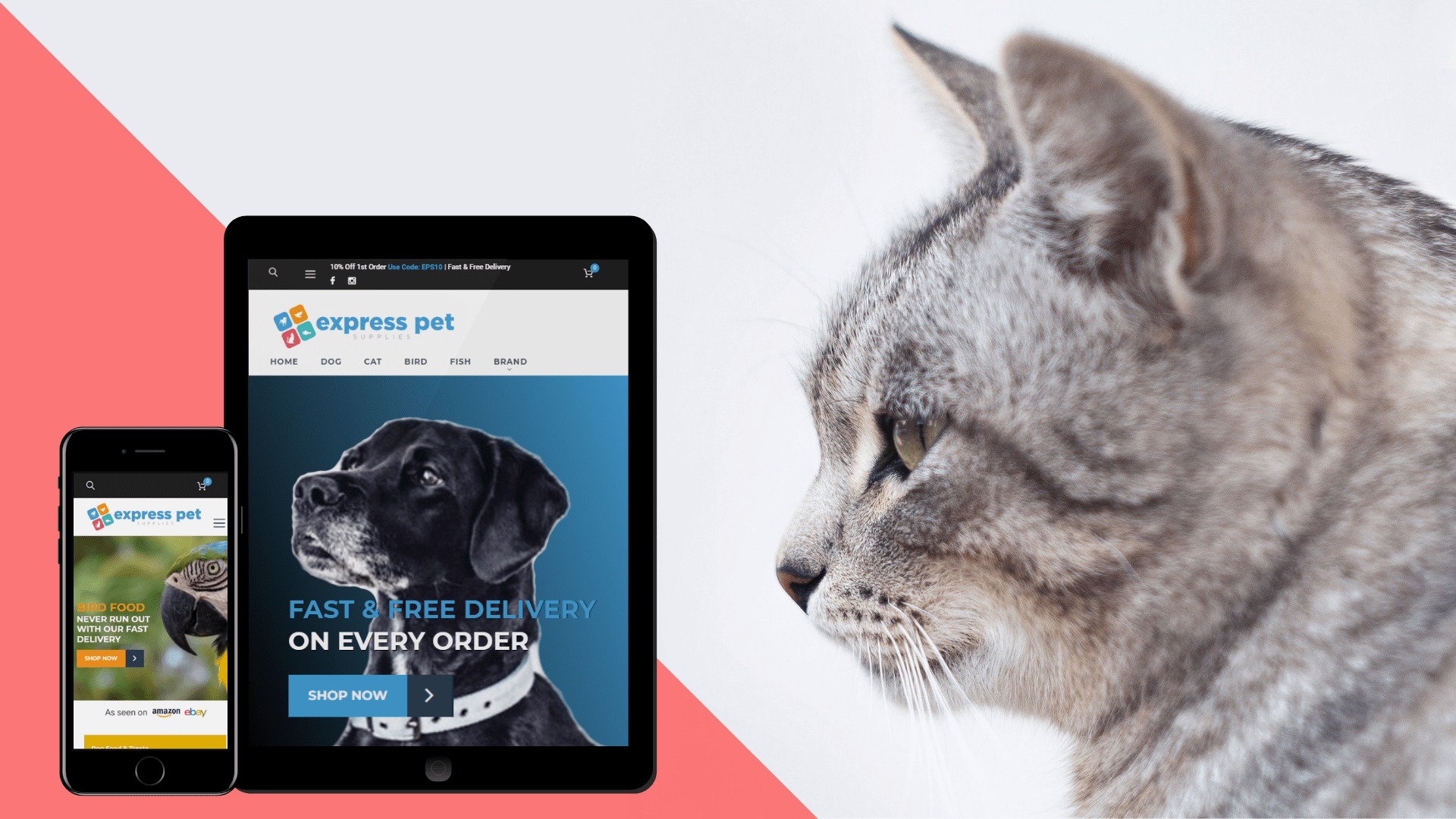 12 Apr

Rebranding and new website for Express Pet Supplies

We've delivered a full branding and eCommerce shopping website solution to a client in the online pet supplies industry. In this article, we shared our experience in solving their brand communication challenges.
Who are Express Pet Supplies?
Express Pet Supplies is a family-owned and operated online pet supplies company. For twenty years, they have been supplying a range of products for pet owners.
Their vision is to be a leader in the pet supplies industry, whilst developing wholesome food products that will cater to popular household pets.
Project Challenges:
The business owned a previous eCommerce PrestaShop website but wanted to upgrade it to a lively and functional online trading platform.
They needed to migrate their current CMS platform to another, safely and securely. Data to be transferred included customer's names, contact details, payment and shopping history.
Only one payment gateway was available on the website, which was PayPal. This created limited payment methods for their customers, hindering the number of sales made via the website.
There was a need to improve traffic to their website; the existing website had poor engagement and conversion rates.
They wanted to develop a new brand identity to be used across products, merchandise and social media.
They needed to build an online marketing strategy to engage with existing and target audiences.
A fully mobile responsive website was required, as the existing customer experience on mobile devices was not fluid.
Their best selling category on other trading platforms is natural pet food for dogs; which were not selling well on the old website due to poor visibility.
Our Proposal & Our Solution:
We spent time with Express Pet Supplies to assess their current digital marketing needs, their current customer profile and target audiences. Our creative design team worked closely to produce an attractive and engaging visual identity.
New brand identity guidelines, including logo design
eCommerce for trading website – SEO ready & can handle up to 2500 products comfortably
Day training for website/media managers
In-depth SEO to position Express Pet Supplies online to increase visibility, sales and cost-effectiveness
New brand manual with recommended guidelines of use
New Mission Statement, Ethos and Tagline
eCommerce for trading website, built with WordPress & WooCommerce, including training and 24/7 support
Ongoing SEO project with social media integration strategy and blog page to communicate with their audience
The Result:
We managed to migrate our client's website securely, in compliance with GDPR.
The site now provides three secure payment gateways: PayPal, Amazon Pay and traditional credit/debit card transactions. The benefits are more payment options for customers to checkout securely and seamlessly. For example, Amazon customers can check out speedily with the 1-Click order feature. Less time = ease of access, customer satisfaction and repeat business.
A fully mobile responsive website is the way to stay current and on top of your customer's needs. When a website is easily accessible and can be navigated via several devices and screen sizes, an immediate purchase can be made with no fuss.
Technical 24/7 support for online customers is available for those experiencing problems i.e. such as logging in to the customer portal, payment gateway, password recovery.
Their new brand identity can be used across all social media platforms, product packing, creating an easily recognisable identity online and offline.
A 12-month Search Engine Optimisation project is now underway, as the website has been launched to the public. The website is ready to welcome high organic and paid traffic generated from this campaign.
6 months into running organic growth with SEO and they are already seeing an average of 200% growth in website traffic and new transactions every day. See the results below:
In a pandemic, the client is very confident that TAD360 will help them reach all their online marketing goals while maintaining a competitive edge innovating their products and technology. Due to the growing success of this campaign, they are currently building additional warehouses to accommodate their new stocks.
Testimonial: Very Reliable, Great attention to detail
"Very good company to deal with helped us throughout the whole process of designing and running our new website. The website design and logo were excellent, had a few problems with smaller tweaks for our website and they helped deal with all these problems quickly and without any hassle. Would highly recommend these for any brand/website design." – Dan (Operation Manager at EPS)