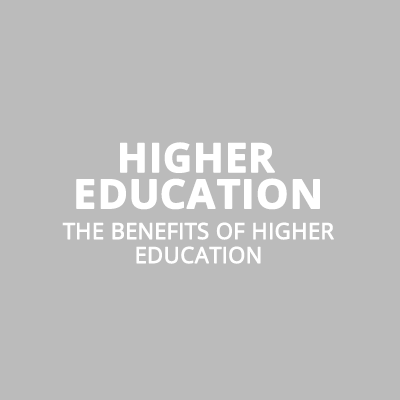 10 Oct

The Benefits of Higher Education

Higher education could boost your career prospects and earning potential, while giving you the chance to study into a subject that really interests you – and to get involved in lots of other activities.

How do you know if higher education is right for you?

Even if no one else you know is thinking about going into higher education, it could still be the right choice for you. You can take a higher education course at a university, Higher Education College or at some further education colleges.

The research we did shows that in the United Kingdom, there are currently around 170 universities and higher education colleges, and over two million higher education students. With more than 50,000 courses in a variety of academic and work-related subjects – including combined courses – there's bound to be one that suits you.

Why go to university or college?

Higher education could benefit you in a number of ways. University or college lets you experience a rich cultural and social scene, meet different people and study something you are really interested in. In terms of career prospects, a higher education qualification can lead to increased earning potential, a wider range of opportunities and a more rewarding career. Many employers target graduates in their recruitment campaigns, and on average, graduates tend to earn more than people with A levels who did not go to university.

A degree will not only give students in-depth knowledge of their chosen subject, but will also make them more employable, developing skills such as communication, presentation, problem-solving and teamwork.
University will also help students to build their self-confidence and independence, and to develop their ability to stand on their own two feet. They will have the opportunity to pursue different interests through the Students' Union and will make new friends from different countries and background.

What is higher education really like?

Different from high school, you're at university or college because you want to be, learning more about a subject or job you're really into. You'll have more control over how and when you study – though it's up to you to make the most of it. You'll find higher education challenging as you get used to new ways of learning and thinking may take time, but you'll have a lot of fun along the way. You'll also have lots of opportunities to experience new things and meet new people.

Studying

Higher education is a very different experience to school or further education. You are expected to do far more work for yourself. Lectures and seminars will provide guidance, but you'll need to widen your knowledge through background reading. Subject staff will offer lots of advice to help you get used to this new way of working. Library staff will be able to help you find the materials you need, and advice on referencing and avoiding plagiarism when it comes to writing essays.

Socialising


Making new friends is a key part of the higher education experience. If you're worried about fitting in, remember that students from all backgrounds, all ages and from different places go to university and college. One way to form friendships is through student societies or sports. It's often easier to make friends with people if you share similar interests.
There will probably be a full list of societies available on your students' union website, and you'll have an opportunity to join up to most at the 'freshers' fair'. Most institutions have a sports centre of their own or an arrangement with the local centre. As a student you're likely to have access to sports facilities and you may get a discount on gym membership.

Getting a taste of student life

Most universities and colleges run open days. They are generally held two or three times a year and allow you to look around them and see what is on offer. Many institutions also offer short courses over the summer period, giving prospective students the chance to get a taste of higher education.

What can you study?

Higher education courses range from familiar academic subjects such as English or History, to less familiar ones such as Philosophy and a host of work-related, or vocational, courses like Accountancy. Higher education does not necessarily mean getting an honours degree – you could study a Foundation Degree, a Higher National Certificate or Higher National Diploma, or a Diploma of Higher Education. Many courses are based on units of study or 'modules' with each module letting you earn credits towards your qualification. This approach to study can give you a degree of flexibility over the focus of your studies.

How much is it going to cost/ is there any support out there?

The cost of being a student varies between different parts of the UK – and so can the length of courses. Financial support is available, so money needn't be a barrier. The help you can get depends on your family income and the type of course you're doing. The most popular support out there for people wanting to go into higher education is the 'student finance direct'.
The main student finance package includes a:
HYPERLINK "https://www.gov.uk/student-finance/loans-and-grants" Tuition Fee Loan
HYPERLINK "https://www.gov.uk/student-finance/loans-and-grants" Maintenance Loan – full-time students only
HYPERLINK "https://www.gov.uk/student-finance/loans-and-grants" Maintenance Grant – full-time students only
Tuition Fee Loans pay for your course. Maintenance Loans and Grants help with living costs (eg accommodation, books, and bills). Loans must be  HYPERLINK "https://www.gov.uk/student-finance/repayments" paid back, grants do not.

How do I know if I qualify for this support?

Whether you qualify for student finance depends on
Your university or college
Your course
If you've studied a higher education course before
Your age
Your nationality or residency status

How do I apply for this Support?

Full-time and part-time students can  HYPERLINK "https://www.gov.uk/apply-online-for-student-finance" apply online to Student Finance England.
Set up a student finance online account.
Log in and complete the online application.
If needed, include details of your  HYPERLINK "https://www.gov.uk/apply-for-student-finance/household-income" household income and get your parents (or partner) to  HYPERLINK "https://www.gov.uk/apply-for-student-finance/parents-and-partners" support your application.
If needed, send in  HYPERLINK "https://www.gov.uk/apply-for-student-finance/proof-of-identity" proof of identity.
Usually, within 6 weeks you'll get a loan declaration in post sign and return it.

Students with disabilities

Colleges and universities are continually making themselves more accessible to students with disabilities – as a matter of good practice and to meet legal requirements. If you have a disability or specific learning disability, you may get funding to help with.

Support while you're studying

There are many things universities can do to help students with disabilities, including:
Providing course materials in Braille and other accessible formats
Ensuring buildings and facilities are accessible
Encouraging flexible teaching methods
Providing support during exams
Allowing additional time to complete courses
You may also need assistance on a day-to-day basis to help you study.

This could be someone to:
interpret words into sign language
take notes for you
write down your words – for example, in an exam
help you overcome physical barriers
It's worth contacting your disability advisor or disability co-ordinator soon after you arrive at university or college so you can find out about the support available.

Disabled Students' Allowances and other financial help

If you have a disability you may be entitled to extra financial help towards the costs of the following:
specialist equipment
non-medical helpers
extra travel costs
other extra course-related costs due to your disability

How can i apply for higher education?

Most students apply to higher education through online website ( HYPERLINK "http://www.ucas.com").
Ucas provide application services across a range of subject areas and modes of study for UK universities and colleges. Most people wanting to study at a university or college use this service each year. Ucas aim to help students make informed choices about higher education, guiding them, their parents and advisers through the application process.
They also carry out research, consultancy and advisory work for schools, colleges, careers services, professional bodies and employers. Ucas also offer continuing professional development tailored to meet the needs of individual institutions or subject areas. This ensures a long-term commitment to improving admissions processes across the industry.